Intensive data protection course
CIPP/E official training course + official exam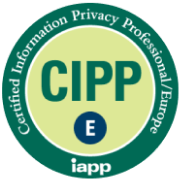 Official preparation course for the GDPR – Certified Information Privacy Professional Europe exam, delivered by a certified professional in partnership with IAPP.
Every day, information is being accessed, shared, managed and transferred by people in your organisation—in all departments and at every level. Unless your employees have a solid understanding of the considerations and challenges involved in managing data, you risk a data breach, reduced customer trust and possible enforcement action. Our training can provide your staff with the knowledge they need to help you meet your privacy programme goals of reducing risks, improving compliance, and enhancing brand loyalty. We offer privacy and data protection training programme specifically designed to extend that knowledge to those on your team requiring a solid understanding of privacy principles and practices. In order to help you drive privacy knowledge across your organisation, our comprehensive and flexible programmes can be suited to your specific needs and availability. By investing in your staff with this globally recognised IAPP training, you'll give them the knowledge to make better decisions in their everyday work, which is fundamental to the success of your privacy programme.
This course is highly interactive and involves group discussions, practical exercises, and case studies based on actual events, completed with course materials (diagrams, documents, flowcharts, and templates).
The training is based on the body of knowledge for the IAPP's ANSI-accredited Certified Information Privacy Professional/Europe (CIPP/E) certification programme.
What is included in the bundle?
By the end of the course,
participants will be able to:
Navigate data protection laws and regulations.
Define categories of personal data.
Understand the roles of controllers and processors.
Apply data protection principles to processing activities.
Fulfill rights of data subjects.
Implement the transparency principle.
Handle international data transfers.
Determine the lawful basis for processing activities.
Ensure the security of personal data.
This course is intended for professionals who works with personal data, including:
This course is also suitable for anyone who seek to become internationally certified in data privacy.
​Compliance officers and lawyers
Information security officers
Database administrators and professionals
Business continuity professionals
Introduces key European data protection laws and regulatory bodies, describing the evolution toward a harmonised legislative framework.
Defines and differentiates between types of data as defined by the GDPR, including personal, anonymous, pseudonymous and special categories.
Describes the roles and relationships of controllers and processors as defined by the GDPR.
Defines data processing and GDPR processing principles, explains the application of the GDPR and outlines the legalgrounds for processing personal data.
Describes data subject rights, applications of rights, and controller and processor obligations as set out in the GDPR.
Explains controller obligations for providing information about data processing activities to data subjects and supervisory authorities as set out in the GDPR.
Outlines options and obligations under the GDPR for transferring data outside the European Economic Area, including adequacy decisions and appropriate safeguards and derogations.
Discusses the applications of European data protection laws, legal bases and compliance requirements for processing personal data in practice, including employers processing employee data, surveillance, direct marketing, and internet technology and communications.
Discusses considerations and duties of controllers and processors for ensuring security of personal data and GDPR specifications for providing notification of data breaches.
Investigates accountability requirements, including data protection management systems, data protection impact assessments, data protection policies and the role of the data protection officer.
Describes the role, powers and procedures of supervisory authorities; the composition and tasks of the European Data Protection Board; the role of the European Data Protection Supervisor; and remedies, liabilities and penalties for noncompliance as set out in the GDPR.
On day 5 of the training, we offer our students to take a mock test based on the questions from previous CIPP/E official exams. 
If you feel that you are not ready yet to take an exam – we can offer additional tutoring classes delivered by your trainer in a 1-on-1 or group format.
Fill out the form and we will contact you as soon as possible!